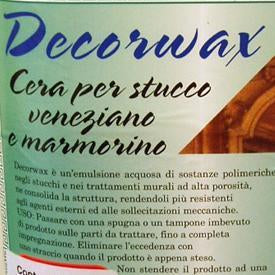 Decor Wax
Regular price
£23.00
/
Tax included.
Decor wax is a decorative finishing wax, in aqueous dispersion for surface finishing and protection.

Perfect to increase the final gloss of Lucidato and Marmarinos

Applied with a soft lint free cloth in 2 coats to give a lustrous shine to your plaster.

Apply quickly and smoothly in circular motion from the top of the wall working down, be careful not to over apply the wax and try not over working the same area.

Let the first coat dry completely before applying the second coat!
The second coat will go on quicker and take less wax.

Buff with mechanical polisher when the wax has completely dried.

We recommend the use of a polisher/buffer when using this wax over Lucidato plaster.

This wax is not suitable for use in areas exposed to excessive moisture.

Coverage on Lucidato 1lt to 20 m2

Please note that NO wax will make a dull plaster glossy and shiny!

Safety
KEEP OUT OF REACH OF CHILDREN
IN CASE OF CONTACT WITH EYES WASH WITH PLENTY OF WATER.
IN CASE OF INGESTION, SEE DOCTOR IMMEDIATELY.
EUH210 SAFETY DATA SHEET AVAILABLE ON REQUEST.
Typically all orders are shipped out with APC next day service except weekends.